Out and About at Cameron Balloons
Our partnership with Balloons Over Britain means that we can't be beaten on price for hot air balloon rides UK and are the exclusive retailer of hot air balloon rides London. We proudly have our very own Red Letter Days hot air balloons up in the skies of the UK, flying high this season!
A few Red Letter Days employees were lucky enough to be invited by Cameron Balloons, the main manufacturer of hot air balloons in the UK, to see our balloon. Join us on our trip to the factory in Bristol to watch the creation and testing of our first hot air balloon baby.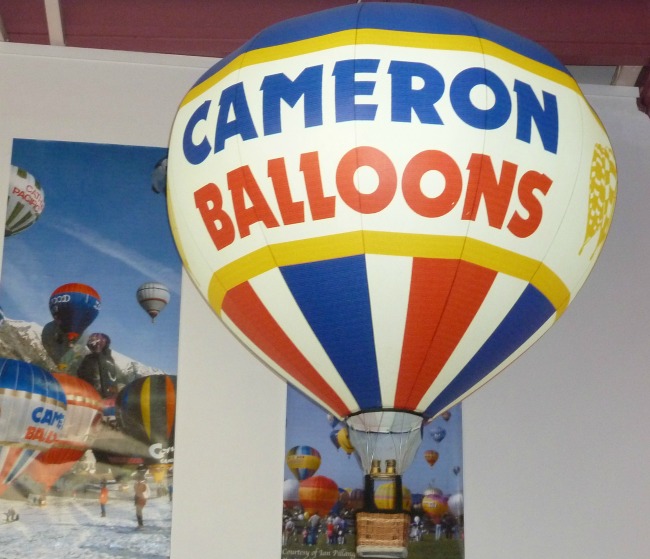 Don Cameron's family business was set up in 1970. They:
have produced over 8,000 balloons
are famous for making the vast majority of special shaped balloons in the country
produce airships (and built the world's first)
are world-beating structural engineers, making materials for hospitals, oil rigs, art events and more
export all over the world
made the largest balloon ever, carrying 32 people
produce virtually all equipment in house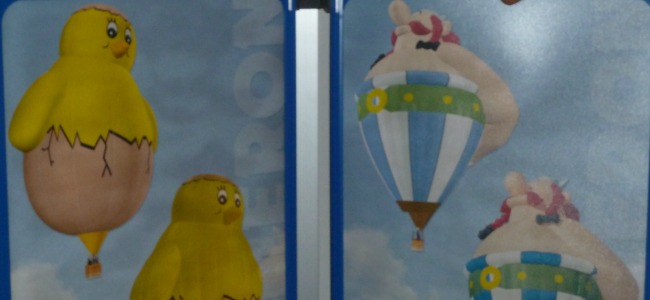 The former paper mill has three floors and we worked from the bottom up with pilot Colin as our tour guide. We passed loads of great memorabilia before filing through a big door into a pretty strong smell of adhesive. This testing area deals with different fabrics and we saw material used on an oil rig being put through its paces.
A balloon envelope is the name given to the inflated fabric part of the balloon. It's made up of many segments (like an orange), known as gores. Multiple panels make each gore using super strong rip stock fabric. Much of the balloon making process is done by hand, with a double check even made by eye to catch any small imperfections in the fabric as it is rolled out. But high technology plays a part and the digital printer which cost £300,000 works flat out, printing two separate jobs at a time.
As well as luxurious baskets destined for Africa, we saw specially adapted seating, designed by Colin and Cameron Balloons with Brian Jones, made for a paraplegic former RAF pilot. This innovative design saw the first wheelchair-bound person gain a hot air balloon private pilot licence. The work continues as Cameron Balloons has since been asked to produce a balloon basket with doors, capable of taking eight wheelchairs, so flyers can wheel themselves directly into the basket.
We then moved upstairs to where the magic happens. The dozen or so seamstresses have this floor all to themselves. Working in teams of two for each balloon, we saw one stitching the initial panels together before the other over-stitched both edges with another layer of fabric. We spoke to Marion, the senior seamstress. She had been at the company for over 26 years and told us she would love for her Daschund dog Errol to be immortalised by having a balloon envelope made in his image – great idea Marion!
Finally we moved up to the top floor for the big one. The Red Letter Days balloon was laid out on the floor. Miles of red and white fabric was bunched up, as even in the vast expanse of the factory, it was too big to lie flat. This was fantastic to see but even better when Colin flicked on the fan to breathe life into the balloon.

We watched, mouths open, as our balloon filled the huge capacity of the factory floor within minutes. The final excitement was being invited to step inside. Who can say they have ever stood inside a hot air balloon on the floor? The feeling was indescribable, I can only say that if I was going to have the party of the century, that space felt right.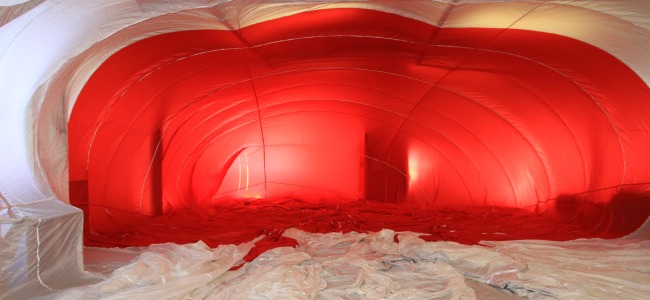 Stay tuned to our blog for videos from both Colin and Marion to follow this week.
Check out our hot air ballooning on the website, we guarantee not to be beaten on price!