What Happens on… a Seafood Cookery Course with Giancarlo Caldesi
Our eCommerce Director Gerry O'Brien has a passion for cookery.
He's known around the office for his culinary skills, having cooked up a Thai Street Kitchen feast and a Spanish Paella fiesta for the entire Red Letter Days workforce to enjoy in the past.
So to assist his ever expanding foodie repertoire, we sent him on a seafood cookery course with Giancarlo Caldesi to see how he got on…
"Giancarlo Caldesi is a respected and experienced Italian chef who owns three successful restaurants and a cookery school inspired by Italian cuisine. It's a family run business and Caldesi in Campagna in beautiful Bray near Windsor is where the seafood cookery course takes place.
It began with coffee and a demonstration on how to make a great espresso, then it was straight down to business when we entered the kitchen and learnt how to fillet and prep various fish.
Under the watchful eye of Giancarlo, we prepared prawns, scallops, mussels, sardines, squid and sea bass. Then we had a demonstration of how to prepare a whole salmon.

Afterwards, the cooking began. We watched how to cook the sea bass in two different ways.
Firstly a whole sea bass was cleaned and then stuffed with garlic, parsley and other herbs, coated in salt and then oven baked to perfection. The second sea bass was filleted and pan fried – it was a real thrill to be in a working kitchen and see exactly how top restaurant standard food is cooked and presented.
We watched several more dishes being created, including squid deep fried in a tempura batter, squid cooked in a tomato, onion and garlic sauce and prawns cooked in shallots and white wine. Throughout the session, Giancarlo explained what was happening and was more than happy to allow us to get involved or just answer any questions we might have.
After the heat of the kitchen, it was the perfect contrast to sit in the cool serenity of the restaurant garden and sample some of the gorgeous dishes we had helped prepare. We sat outside as the weather was nice and were served a tasting menu of all the dishes we had cooked earlier, accompanied by complementary wines.
Giancarlo ate with us, so we continued to chat away, discussing food and cooking methods as we dined. The food was delicious and the whole experience was absolutely ideal for an ardent foodie like myself.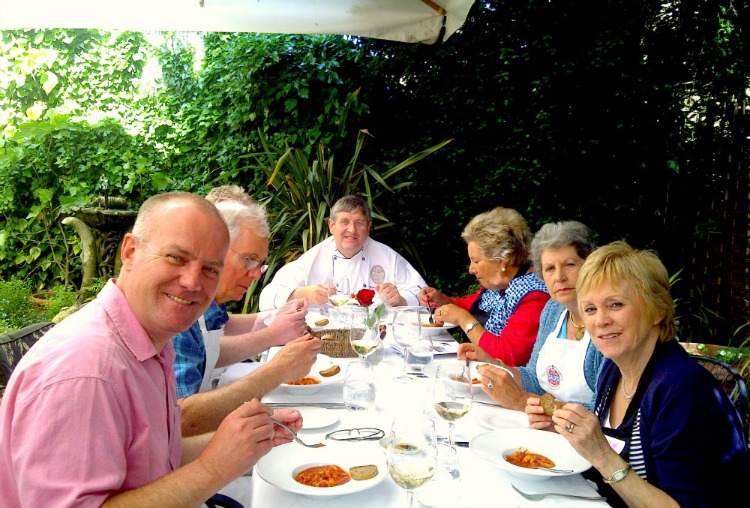 We enjoyed a lemon sponge cake for dessert, followed by coffees – the perfect end to a great day. I would really recommend this experience to anyone with an interest in cooking.
Since the course, I've already prepared several of the dishes we made on the day – I've dished up squid in a tomato, onion and garlic sauce and when I buy sea bass, I get it whole as I now know how to clean and prep it from scratch. It really makes a difference to the taste as it's fresher when bought whole."
We think it looks amazing. Why not have a look at our range of cookery courses and have a go yourself?