It's nearly that time of the year again, when we transform ourselves into ghoulish characters, decorate our houses with cobwebs and, of course, carved pumpkins. Make Halloween a total scream this year with some of our frightfully fun ideas for pumpkin carving, spooky recipes, costumes and Halloween apps.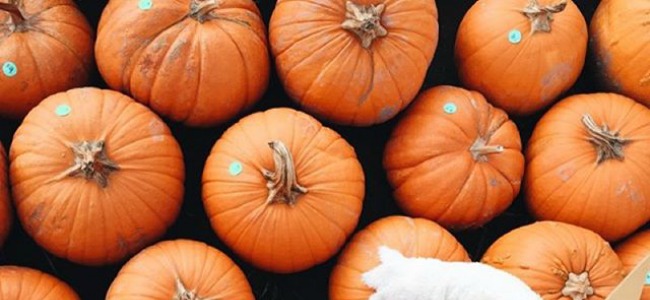 Eerie Apps
Already got your Halloween costume sorted? Then why not try bringing it to life and adding that extra spooky element to scare all your friends. Try the Spooky Speaker app from Sainsbury's and complete the terrifying character transformation. The app contains a mixture of eerie voices to match popular costume choices and all that you have to do is talk into the phone to hear the spine-tingling tones being spoken back.
Pumpkin Carving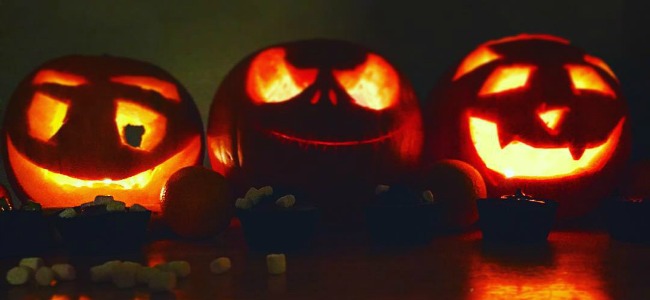 Whether you are thinking about having a pumpkin tower as a showstopping entrance piece to your haunted Halloween party or just wanting to create an indoor masterpiece on a smaller scale check out the following sites for really helpful tips on how to make your pumpkin's sinister
And for the really artistic among you, take a look at these incredible pieces of pumpkin carving art.
Gory Food and Drink
Hosting a spooktacular Halloween party this year? Spice up your usual nibbles, snacks and drinks and make a skull punch or monster eyeball cupcakes.
Skull Punch
For the spiced pumpkin pureé 
A medium pumpkin – keep the seeds
1 litre/1¾ pints orange juice
2 tsp of ground allspice
2 tsp of clear honey
For the cocktail
½ litre of pineapple juice
½ litre of pumpkin pure

é

3 tbsp of grenadine syrup
crushed ice
1 litre of chilled lemonade
Halloween jellies
To make the pumpkin purée, boil a small amount of water to a simmer in a pan. Place a colander over the water but do not allow the base of it to touch the water. Add the chopped pumpkin and steam for 15 – 20 minutes, or until it becomes tender. Remove from the colander once tender and set it aside to cool.
When the pumpkin has fully cooled, transfer it to a food processor. Add the orange juice, allspice and honey and blend it all until smooth.
For the cocktail, mix together the pumpkin purée, pineapple juice, grenadine and crushed ice in a large jug until mixed thoroughly.
Chill the mixture in the fridge for at least one hour.
To serve, pour the mixture into a large bowl (preferably something Halloween themed – a skull, pumpkin, eyeball etc). The mixture should half-fill the bowl and then fill to the top with lemonade. Mix well and when ready to serve, ladle into cups and garnish with Halloween jelly and pumpkin seeds.
Monster Eyeball Cupcakes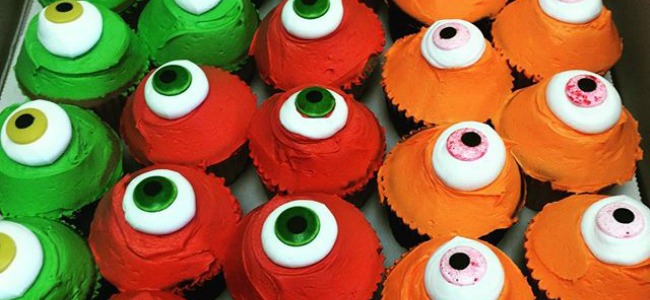 For the cakes
110g self raising flour
110g caster sugar
110g unsalted  butter
3 medium eggs
2 tbsp cocoa powder
For the icing
140g unsalted butter, softened
280g icing sugar
a few drops of green food colouring
For the decorations
4 tbsp of strawberry jam
12 white chocolate buttons
12 dark chocolate chips
writing icing in assorted colours
12 cupcake cases
Preheat the oven to 170°C, fan 150°C, gas mark 3 and line a 12 hole cupcake tin with the paper cases.
Beat together the flour, sugar, butter, eggs and cocoa powder using a hand-held electric whisk.
Spoon the mixture into the cases and bake for 15-18 minutes, until risen and cooked (check by putting a skewer into the middle and ensuring it comes out clean). Let the cakes cool.
For icing, beat together the butter and icing sugar until smooth. Add a few drops of green food colouring and beat until you have an even colour.
Spoon the icing into a piping bag fitted with a star-shaped nozzle and pipe a swirl on to the top of each cake. Add 1 teaspoon of the jam to the top of each cake
Make the eyes for the cakes using the chocolate buttons and the chocolate chips and secure them with the writing icing before placing them on to the top of the jam carefully.
Still looking for more ideas fang-tastic ideas for Halloween? Head to our RLD Pinterest and take a look at what trick and treats we have found.