Unusual Summer Food: Ice Cream Flavours and Things to Grill
When the sun comes out, the stodgy food gets pushed to the back of the cupboard and fresh, light and barbecued food becomes the meal of choice. The classic burger, salad and ice creams are much loved, but we thought it might be interesting to explore some of the lesser known summer foods available.
Fun Flavoured Ice Cream
Everyone loves an ice cream (or a sorbet!) when the sun has got it's hat on. Vanilla, chocolate, strawberry, mint choc and honeycomb are popular choices and it seems that flavours are becoming even more adventurous year on year.
Anyone with an ice cream maker and a colourful imagination can get creative in the kitchen and whip up something brilliant. A quick Google brings up more than a few eyebrow raising flavours…..
Heston Blumenthal is famous for his wacky dishes and he came up with mustard flavoured ice cream – we think it might be more of a condiment than a dessert!
Have you got basil growing in your back garden? We think this basil flavoured ice cream recipe sounds refreshingly delicious.
Americans love their crazy flavours – a place in Washington DC does an Avocado ice cream sandwich – that's a combination that we think just might work!
Ever tried a magical ice cream? Cliffs Ice Cream in New Jersey, USA do a Butter Beer flavoured ice cream – it's certainly a must-try for any Harry Potter fan.
Give it a Grilling

When the barbecue gets fired up, there is always plenty of meat and veg around to get a grilling. But why not try something a little different and grill some fresh fruit?
Grilled bananas are delicious, and a good idea to sweeten it even more is to add a little chocolate to the banana for an extra warm treat.
Grilled watermelon is hot, fresh and juicy – perfect for a barbecue appetiser on a warm summer's evening.
Pineapple is such a distinctive flavour and one that goes well with savoury food. Sliced pineapple is great on a burger (chicken or beef) or chunks on a kebab skewer with onion and halloumi.
Exciting Concoctions
It's always fun to experiment with food and we think the below combinations look absolutely delicious. Ice cream is the perfect partner for a fruit salad and we think these tomato, halloumi, watermelon and pesto creations definitely look like something we want to try right now.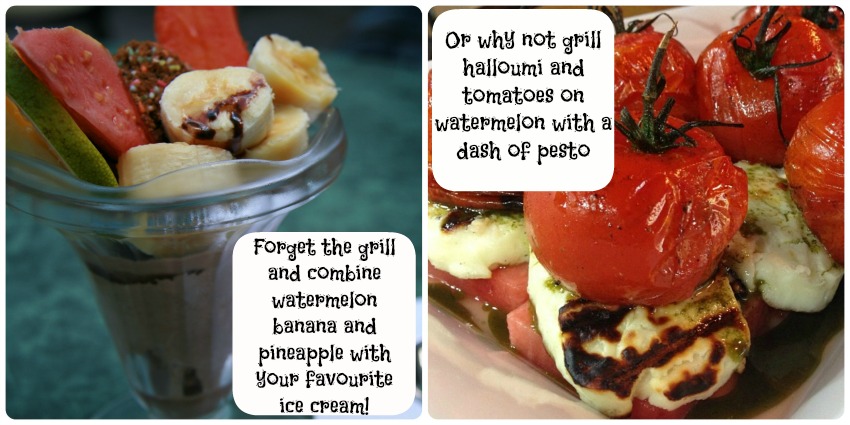 What are your favourite summer foods?
Images courtesy of the justified sinner, Robyn Lee, wetwebwork, tiexano, Quinn  Dombrowski, Philip Chapman-Bell, sputnik and Arnold Gatileo via Flickr.