From student survival courses and basic food and hygiene skills; to classes that teach you how to eat better (not less), The Cookery covers everything you need to know about about delicious food. Read on to find out more.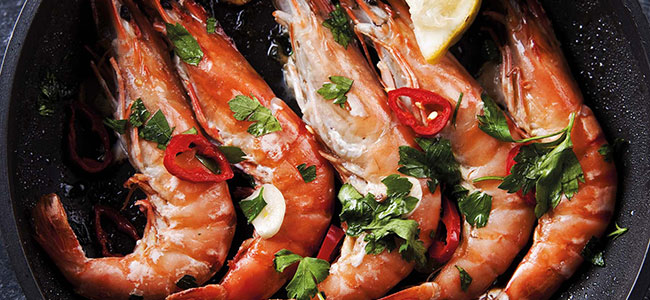 For those who want to recreate delicious dishes at home, the more intricate classes will have you whipping up fresh pasta, delicious seafood and scrumptious desserts in no time.
Our colleagues Ciana and Andy attended a fish cooking class, led by skilled fishmonger Andrew Clarke. "Andrew has been a fishmonger for over 20 years and had a wealth of experience to share with us. With each different type of seafood we were given an expert demonstration, before going to our individual work stations to try and recreate it ourselves," says Ciana.
From how to pick the right scallops, to filleting a fish, Ciana says she learnt a host of new things that she's no longer scared of trying on her own.  "I particularly enjoyed dressing the crab – which is much harder than it looks – and making the crab linguine. It was such a delicious fresh recipe with lovely flavours that I've recreated it home a few times!"
Try this recipe at home for a taste of what's on offer at The Cookery:
Crab Linguine
Ingredients (for one portion)
100g crab meat, use a combination of white and brown meat for flavour and texture
1 clove of finely chopped garlic
1/2 – 1 red chili finely chopped (this can be to taste, but be brave!)
1/2 banana shallot finely sliced
Fresh Parsley Leaf – small handful
20 – 30ml (a good glug) of good quality Olive Oil
Salt and Pepper to season
60g dried linguine
Instructions
Bring a pan of water to the boil.
Salt the water only when boiling.
Add the linguine – this should take eight to ten minutes to cook. You are looking for a slight bite to the linguine when it is ready, it should not be soft and shiny.
In a bowl mix together all the other ingredients.
The trick is not to have too much of anything. The flavours should complement each other and not overpower the dish.
Once the linguine is ready to drain, put it into a warmed serving bowl and then add all the other ingredients on top and mix through. The heat of the pasta will wamr through the other ingredients. Dress with a little extra parsley and enjoy. Great served with a chilled glass of Petit Chablis.
Images: RLD