The Bucket List – Indoor Ice Climbing
Although summer is fast-approaching, and the days are brighter and longer, there are magical places across the country apparently untouched by the warmer weather.
Nestled within the sublime Scottish Highlands, known for its snow-capped mountain ranges and wild nature trails, sits the lively village of Kinlochleven. Based at the foot of the spectacular Mamores mountain range, the area attracts a string of adventure seekers and adrenaline junkies each year. Whether it's climbing, daredevil biking or off-the-beaten-track hiking, there are plenty of activities and challenges to take on that can't be found anywhere else in the UK. It's in this otherworldly region that our #BucketListThursday continued with Indoor Ice Climbing at Ice Factor (Jon Snow style).
Need a little practise before conquering Ben Nevis? Well, this celebrated activity centre offers just that and is home to the largest indoor ice climbing wall in the world! Standing at a colossal 50 feet and built from 500 tonnes of real snow, the summit, at first, feels like an unattainable goal. A teasing glint in the distance, a maze of steep snow slopes and gravity-defying routes must be conquered in order to reach the top.
It's unsurprising, then, that it takes someone with balls of steel to undertake the challenge! Luckily, our brave #BucketList blogger knows a thing or two about that. Meet our contender: Laura Lawson! Ding ding ding! 
Laura is the founder of Completing my Bucket List, an action-packed blog that's gained unprecedented popularity in recent years. Back in 2012, although hard to believe, she wasn't the fearless female we know today. Having lost her joie de vivre, she came to the realisation something had to give. She threw herself into new adventures (quite literally), with an aim to #LiveALittle! Starting with a bungee jump, she has been powering through her bucket list since, figuring out what she loves and having plenty of fun in the process.
Laura and her partner, David, were warmly welcomed into the ice themed facility by Selena – one of the venues fully qualified instructors. In fact, Ice Factor prides itself on having "probably taught more people to ice climb than any organisation on the planet". After a briefing, the duo got decked out in harnesses, helmets and specialised climbing boots, ready to start their adventure, Game of Thrones style!
Starting on the practise wall was a great way to ease into the challenge, before taking on the main attraction – a 50 foot sub-zero assault course! How many muscles does it take to scale a giant block of ice? Laura soon found out…
After ice climbing, and a much needed short break, they headed onto the rock climbing walls and aerial assault course, which featured a giant swing!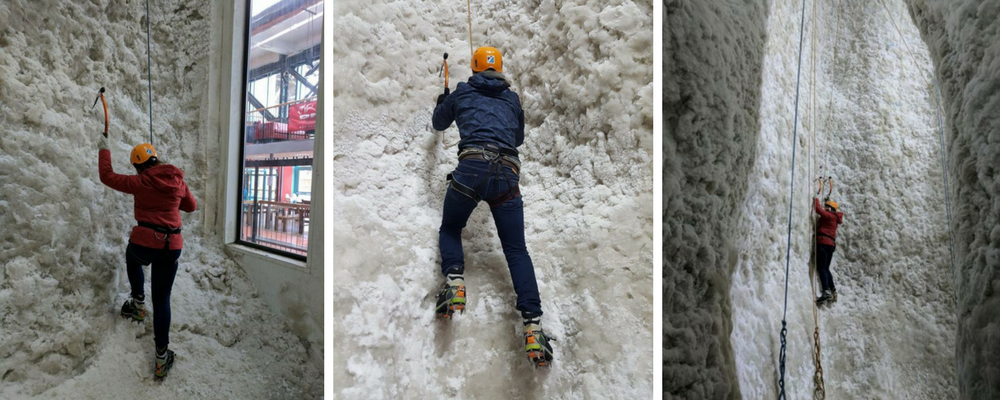 To read more about the exciting day, read Laura's post.
Image credits: Laura Lawson, Wikimedia Commons, National Geogrpahic and GIFY.