Spooky Q&A with Jacqui of Lantern Ghost Tours
Are you curious about the paranormal and the unexplained? Ever wanted to uncover London's most chilling mysteries?
We caught up with Jacqui Travaglia of Lantern Ghost Tours to delve a little deeper into her world and to find out what really spooks her. Read on – if you dare…
Hi Jacqui, would you be kind enough to tell us a little bit about what you do at Lantern Ghost Tours?
I run Lantern Ghost Tours, carrying out research and working as a tour guide. I love taking people to London's most haunted locations and attempting (sometimes successfully) to make contact with the other side.
Have you always been intrigued by the paranormal?
I grew up in a haunted house and often saw the ghost of a short, elderly woman. I would tell my mother and she would shrug it off. However, when I turned 16 she told me that she too had seen the ghost but didn't want to alarm me. The ghost was Clara Fitzpatrick, the previous owner of the house!
You run some very spine-chilling ghost tours around London. What is your favourite route and why?
My favourite is the London Bridge Ghost Walking Tour which runs through the Southwark area. There are so many scandalous stories and hidden haunts: the Medieval George Inn was a favourite of Charles Dickens and William Shakespeare. It's still haunted by its original owner – a former publican who was upset that the invention of the auto-mobile took away most of her business.
There's also a hidden burial ground called Cross Bones, the world's first operating theatre – and the Clink Prison. At the time, the area was also overrun by brothels, which were all under the control of the Bishop of Winchester.
What would you say has been your spookiest ever encounter?
I run a paranormal activity tour on Friday nights and we use a Ouija board in what we believe to be the former cells of Newgate Prison – now located in the Viaduct Tavern. The cells have become the tavern's cellar. In the middle of our Ouija session, a beer keg started shaking violently of its own accord. We heard footsteps and then an icy cold feeling worked its way through the group. We all felt quite ill afterwards. It was scary!
Do you have a favourite ghost story?
John Overs haunts the Borough Market area. He was a wealthy ferryman who was infamous for being extremely stingy. He wore an old, moth eaten jacket and only ate hard boiled eggs.
He would not allow his daughter Mary to marry in fear of losing his wealth. In order to save money, he pretended he was dead to avoid the cost of feeding his servants for a week. During the so-called wake, John was placed under a sheet and his servants came to pay their respects. However, instead of mourning, they celebrated. This was too much for John, so all of a sudden, he 'rose from the dead'.
One of the servants was so shocked, he hit John over the head and killed him. Shortly after the incident, Mary sent for her suitor who arrived by horse, only to be spooked by an apparition and thrown from the horse to his death. The apparition was believed to be that of her father, protecting his wealth from the grave.
Mary was so distraught, she founded a convent which is now Southwark Cathedral. John's ghost continues to haunt the area and is seen fleeting around the churchyard, perhaps still guarding Mary from potential suitors.
If you could choose to do any of our Red Letter Days experiences, what would it be?
I would love to skydive. I love flying but I'm scared of heights so I think it would be a great way to combat my fear and I reckon it would make a really amazing experience – well, after the first few seconds of jumping out of the plane anyway.
And last but definitely not least; what exciting things do you guys have in store for the near future?
I am busy researching Jack the Ripper. So much new evidence has emerged over the last few years that I would love to incorporate it into a tour. At the moment I am researching the world's worst serial killer, Amelia Dyer, who was around at the time of the murders after killing several Whitechapel prostitutes in botched operations. Needless to say, Jack could be a Jill, so stay tuned…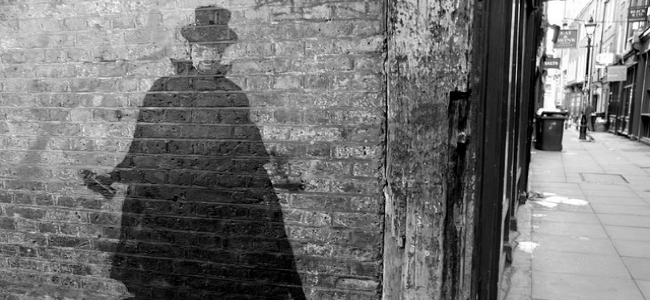 If this has made you want to do some exploring of your own, take a look at our spooky selection of London ghost tours.