Spine-tingling Halloween experiences for 2020
Wondering if you'll be able to do your usual trick or treating this year?
Halloween in 2020, like most other events, is going to look a bit different. But that doesn't mean you can't get your annual scare or enjoy fun events with your family.
Halloween has its origins in Britain – when Celts believed ghosts of the dead would revisit the mortal world on 31 October – and, during what has been a pretty frightening year, it feels only right to mark this eerie occasion.
So, if you're looking for fun things to do this Halloween, we've brewed up some of our favourite spine-tingling experiences for you.
1. Halloween experiences for friends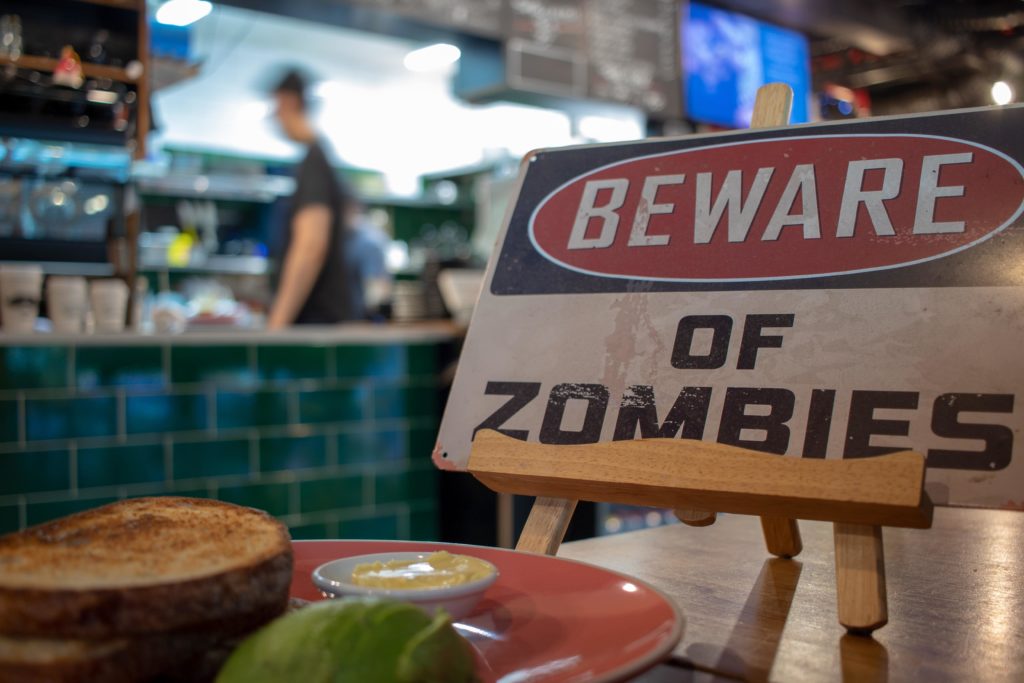 Ever wondered who'd survive longer in a zombie apocalypse? Now you can find out in our Zombie Infection Experience for two. For over two hours, you and a friend will tackle the flesh-eating undead head on, armed with life-like airsoft weapons in an abandoned asylum, old factory or creepy forest.
You can also team up in our Zombie Blitz, where you'll join the Counter Terrorist Strike Force and hunt zombies through streets, jungles and a science lab. You'll need to be over 18 to play and things are likely to get messy, so remember to wear well-loved clothes you don't mind getting dirty (and bringing a spare set to change into after).
Prefer to be on the scaring end? Become one of the infected in our Zombie for a Day experience. You and your companions will be transformed by a professional SFX artist into blood-soaked zombies, complete with all the gruesome details. Your job for the day? Scare unsuspecting tourists witless as they tour the London Tombs. For your day-long efforts, you'll receive a tasty two-course lunch for two at the nearby Mug House restaurant – but you might want to remove the make-up first.
2. Halloween experiences for couples
If fighting the undead isn't your idea of a date, you could investigate how someone met their demise instead. Our Murder Mystery experience for two puts you up in one of 28 hotels for a night, where you'll need to figure out whodunit in the face of exhilarating twists and terrifying confessions. Or, try and avoid your own murder in our escape room for two experience in London, where you'll have 60 minutes to solve puzzles and escape the killer, before they find you first.
Alternatively, for a day of horror-filled history, you can go on a two-hour ghost walking tour and discover the dark side of London Bridge. Visit the oldest operating theatre, where operations were once performed anaesthetic free, and explore graveyards, secret ale houses, cock fighting rings and bear-baiting pits.
For something truly spooky, follow in the footsteps of Jack the Ripper as you walk through the alleys, arches and dark passages of Whitechapel. Or visit London's most haunted pubs, where you'll even see the former address of murderous barber Sweeney Todd!
3. Halloween experiences for families
If all that's too skin-crawling for you, tone down the terror and opt for one of our film and television themed experiences the whole family can enjoy.
See sights from the wizarding world in our Harry Potter walking tour, where you'll visit iconic places from the movies including the Ministry of Magic and entrance to the Leaky Cauldron. Double up with the Harry Potter studio tour at the Warner Bros. studio in Leavesden and you'll see even more sets, costumes and props.
Are you more of a Doctor Who fan? You can also go on a Doctor Who walking tour, where you'll see 15 locations from the famous show and learn more about how certain episodes were made.
If the kids are a bit older (12+) and into science fiction, have a go at the War of the Worlds immersive experience. A truly multi-sensory activity, you'll journey back to 1898 using holograms, augmented and virtual reality, and team up to survive the Martian-filled worlds of Jeff Wayne and H.G. Wells. Once you've tested your problem solving skills, you might also want to try an escape room for four, racing against the clock to solve challenges in the wizarding or WWII worlds.
Halloween activities safe for Covid-19
Whether it's the undead, paranormal or magical beings that get your blood pumping, we've got activities for everyone this Halloween 2020. Over the last few months, most experiences have been operating as normal, with additional safety measures including more regular cleaning, mask-wearing and limiting the number of people involved. This makes them safer to do, however with the new three-tier restrictions now in place, it's always worth checking the guidelines in each area before you book.
If your activity is temporarily closed, don't worry. Your experience voucher is often valid for 10 months or more. Until then, a night in watching Hocus Pocus, eating sweets and carving faces into pumpkins is a great way to mark the occasion. Fun fact: did you know over 24 million Halloween pumpkins are carved in Britain every year?
Feeling brave enough to book your hair-raising Halloween activity? Our Murder Mystery Halloween experience is currently discounted as part of our Black Friday deals. If you'd like to find out about other incredible deals, sign up to our Black Friday mailing list to stay in the loop.