Spicy Summer Food: Indian Pakora Recipe
Here at Red Letter Days we have an enthusiastic cook in our midst and Gerry O'Brien loves to try out new dishes. Spicy summer recipes don't come much tastier and he's sharing this pakora recipe with you….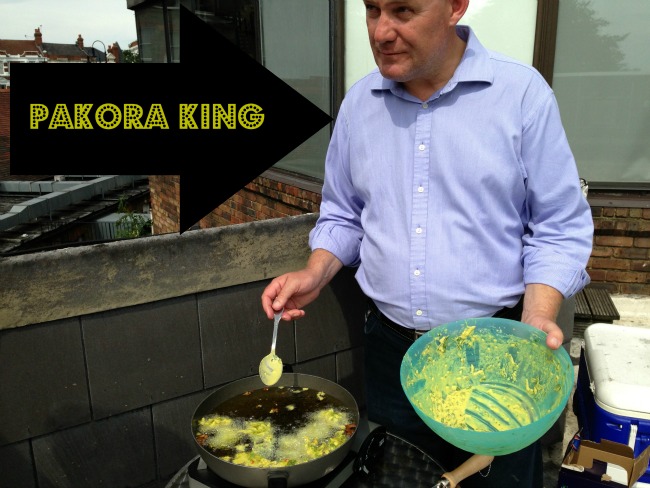 Gerry brought his food, pots and cooking utensils onto the roof terrace at RLD Towers. His Indian pakoras were prepared and devoured in minutes and staff declared this latest creation a tasty success. Check out his list of ingredients…
INDIAN PAKORAS
250g chickpea (gram or besan) flour
50g self raising flour
300g onions
300g potatoes
100g fresh spinach
Fresh chillies to taste
1 and 1/2 teaspoons of salt
1 teaspoon of tumeric
1 teaspoon of ground coriander
1 teaspoon of cumin
250ml water
Vegetable oil 
Over to Gerry to explain what he did next…
"First the potatoes and onions were grated, the spinach and chillies were coarsely chopped. My tip with chillies is to remove all seeds to reduce their hotness but keep the taste.
With the oil heating in a deep fryer to around 180c (hot but not smoking), I prepared my batter. I mixed both sets of flour in a large bowl with the salt and spices and whisked in the water slowly to a thick consistency. The grated potatoes, onion, chopped spinach and chilli were then all added thoroughly to the mix.
Another tip to check your oil is hot enough is by dropping in a cumin seed to see if it sizzles. I carefully added spoonfuls of the mixture to the hot oil. Within three or four minutes, golden brown pakoras were ready and drained on kitchen paper while I made the next batch.
I made four batches in all (around 50), served with a home-made tangy chilli sauce, some coriander sauce and a mango chutney. Everything disappeared in record time and it was really satisfying to see people enjoy the food. Staff left me the last one so I could taste my own handiwork – is that like handing over your final Rolo?"
For more food related fun, check out our other great recipes.
Images via RLD