10 Less Traditional Mother's Day Gifts
We all know that mums love chocolates and flowers – who doesn't?
But we also know a few who long to receive something a little bit (or a lot) different. So if you're looking for some alternative Mother's Day gifts, look no further – we've done the hard work for you.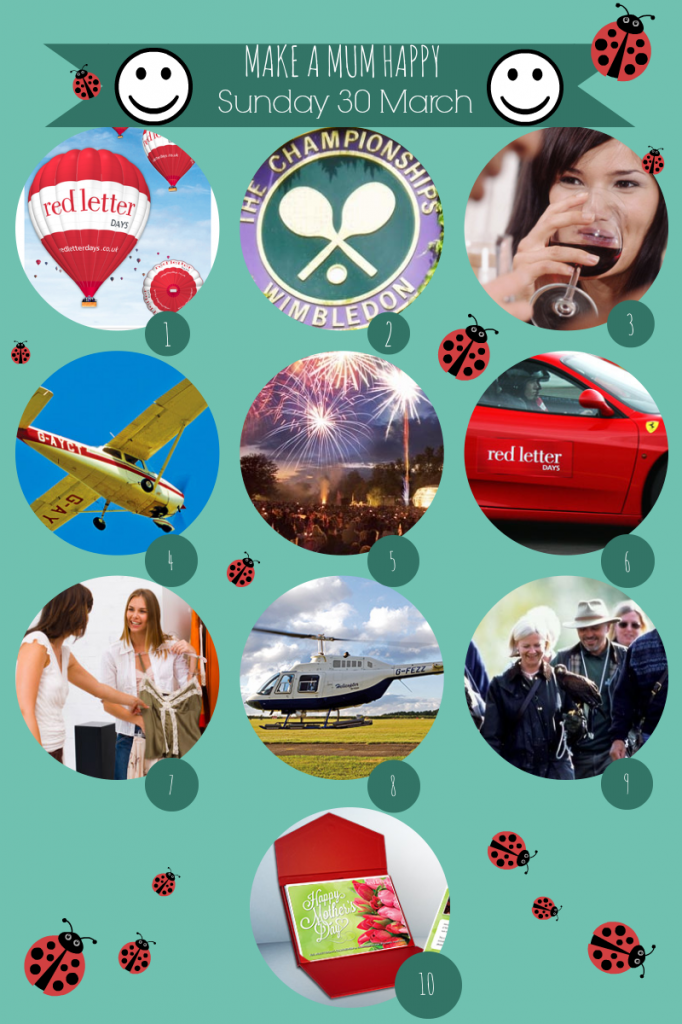 1. Two Red Letter Days hot air balloons are flying high this summer, all over the country. A hot air balloon ride makes a wonderful unusual gift for a mum who wants to gently drift skywards
2. If she loves tennis, there can be no better gift than our exclusive day behind the scenes at Wimbledon, The All England Lawn Tennis and Croquet Club – read all about it
3. Mums can enjoy a tipple while learning the finer intricacies of fine wine tasting. Wine tasting evenings take place all over the country and are a novel way to spend some time together
4. Travelling by a two or four-seater plane couldn't be more different than the annual holiday trip on a 747. Vive la difference in a Piper or Cessna small aircraft
5. Summer is coming and any mum would be delighted to receive tickets to a classical summer concert set in an amazing English countryside venue
6. Why shouldn't mum climb aboard her dream supercar and race around a famous circuit? She might surprise you with her petrol head skills in a fast and furious Ferrari
7. We have a special Mother's Day offer of a makeover and photoshoot in London. A real day of indulgence and she can even take the kids along to be in the photoshoot
8. A helicopter flight is not your average Mother's Day gift, but would be something unique that she'd remember forever
9. Animal loving mums might enjoy getting up close and personal with a bird of prey. A walk in the spring countryside with a harris hawk attached to your glove makes a pretty special Mother's Day gift
10. We're Red Letter Days so of course we think of everything. If you aren't sure what she'd like, how about a Mother's Day gift card. They come in denominations of £50, £75, £100 and £150. The latter even includes a beautiful fresh bouquet from Interflora.
What was the most unusual or interesting thing you have ever bought your mum for Mother's Day?
imAGES – Red Letter Days