James Bond for a Day: Win a Luxury Thames Cruise Experience
Ever wondered what it's like to be James Bond? Fancy a luxury Thames cruise on the actual Sunseeker used in one of the films, reliving the famous speedboat scene? Enter our prize draw competition and you could do just that.
The winner will be jumping aboard our new Luxury Sunseeker Cruise experience which sets off from Chelsea Pier and cruises down the river, taking in all London's landmarks along the way (including, of course, MI6). Then once you've passed Tower Bridge, the leisurely pace switches up and the high speed experience begins, whizzing along in true James Bond chase style.
*The competition is now closed*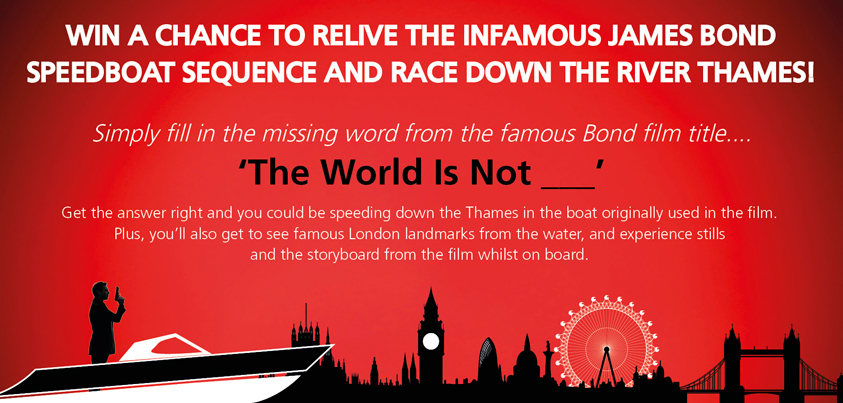 Good luck!
Red Letter Days 'Luxury Sunseeker Cruise Free Prize Draw [Thursday April 11th 2013] – Terms and Conditions
1 By entering this free Prize Draw you agree to these Terms and Conditions.
2 This Prize Draw is open to residents of the UK and Eire, except for employees of Red Letter Days, their immediate family members, or anyone else associated with this Prize Draw.
3 Entrants must be 18 years or older
4 The prize entails:
– Reliving the famous River Thames speedboat sequence from the Bond film 'The World is Not ——' in the actual Sunseeker boat used in the film. The boat was also a featured vessel in the Queens' Diamond Jubilee River Pageant 2012
– The experience will start from Chelsea with a slow leisurely cruise past MI6 and the landmarks of central London, then will become a high speed experience once east of Tower Bridge. The cruise will end with a return journey back through central London at slow speed to Chelsea
– Stills and the actual storyboard from the 'The World is Not ——' are shown onboard during the cruise
– A commemorative 'Secret Agent' pass will be issued at the end of the cruise
– The experience includes a complimentary glass of prosecco at the start of the cruise
* Please Note *
– The prize is unsuited to anyone who has ever suffered a serious back or heart complaint or pregnant women
– The winner will need to make their own way to the starting point
– Please see all restrictions here (key info): http://www.redletterdays.co.uk/Experience/Ref/DIPAO/A-Thames-Luxury-Sunseeker-Cruise?method=Search
Experience starting address: Chelsea Pier, Chelsea Harbour, Lots Road, London, SW10 0XF
5 The prize can only be used once and cannot be exchanged for cash or any alternative.
6 The prize is only valid for weekends from April to October 2013
7 To enter this Prize Draw, you must correctly identify the missing word in the famous Bond film title 'The World Is Not ——' and submit the answer to: blogteam@redletterdays.co.uk
8 The Prize Draw opens on Thursday 11th April 2013 at 1:30pm, and entries must be submitted by 8pm on the same day.
9 Only one entry email per person and any entry account which breaches these rules will automatically be disqualified.
10 Red Letter Days accepts no responsibility for late entries, delayed entries or non-receipt of entries due to any reason whatsoever, including technical faults or inability to access email accounts or the Internet.
11 The winner's full name may be posted on the Red Letter Days Facebook, Twitter, and the blog and may be used for future PR activity. Red Letter Days complies with the UK Data Protection Act to ensure that the personal information you give us is kept secure and processed fairly and lawfully. We will not share your information with third parties for marketing purposes.
– For further details please see our online Privacy Policy at http://www.redletterdays.co.uk/Privacy
12 The winner will be drawn at random from all correct entries, and announced on the Red Letter Days social pages on Friday 12th April 2013.
13 The winner will be notified via their entry email address. Red Letter Days decision will be final and no correspondence or discussion shall be entered into.
14 If the winner has not responded within the seven days following their notification, the prize will be forfeited, and a new winner will be selected at random.
15 The prize is non-transferable and non-refundable. There is no cash or other alternative to the prize, and the prize must be taken as offered.
16 Red Letter Days reserves the right to substitute the prize for an alternative one of its choosing which has a value the same or greater than the original prize in the event of circumstances outside of its control.
17 By entering the Prize Draw the winner agrees to participate in such promotional activity and material as Red Letter Days may require.
18 The winner's name will be available for two weeks after the draw by sending a SAE to Joshna Patel at the address below.
19 These terms and conditions shall be governed by English law and exclusive jurisdiction of the English courts.
20 Red Letter Days reserves the right to cancel or refuse any individual entry or to postpone or cancel the Prize Draw in exceptional circumstances, including but not limited to circumstances where it is apparent that there has been fraudulent activity or access to the Internet has been prevented for a period longer than 48 consecutive hours due to technical problems beyond the control of Red Letter Days.
21 Promoter: Red Letter Days Ltd, 77 Muswell Hill, Muswell Hill, London N10 3PJ