The Highs and Lows of the FIFA World Cup
Summer is coming and it's a great time of year for sports fans, but for football fans across the planet, every four years many of the FIFA World Cup wild memories and emotions are conjured up – from world-class footwork on the pitch and mind-blowing goals to red cards, drugs and fall outs. The world inclusive tournament certainly produces some pretty unforgettable moments.
To mark the arrival of the 2018 FIFA World Cup today (14th June), we've had a look back at some of the highs and lows of the iconic football tournament, throughout its 88 years of existence. Here are a few highlights:
The Highs
England won their first and (so far) only World Cup title (1966)
As the country who invented football, you'd have hoped that England would have had a slightly more triumphant track record but World Cup victory has only come to the team once. The year was 1966, England was hosting the tournament at Wembley (check out our Wembley tour and walk in the footsteps of sporting legends!) and Bobby Moore's team found themselves in the final against West Germany. They won 4 – 2 and finally lifted the Jules Rimet Trophy but the win didn't come without controversy, as a goal scored by Hurst hit the crossbar and bounced down to the goal line, leading to speculation that the ball did not actually cross the line. Luckily a fourth and final goal was scored at the 11th hour, securing England's win (and we've never forgot it!)
Roger Milla's iconic celebration dance (1990)
Roger Milla's outstanding performances that helped Cameroon become the first African team to reach the World Cup quarter-finals led to him being named African Player of the year in 1990, and in 1994 he became the oldest World Cup scorer in history at age 42. But it was his jive around the corner flag in a match against Colombia in 1990 that made him a household name, grinning from ear to ear as he danced in celebration of an extra-time goal. What a moment! 
Romanians go blonde for the occasion (1998)
The Romanian squad engaged in some unusual team bonding in 1998, when a bet with their coach Anghel Lordanescu led to the entire team bleaching their hair blonde after beating Colombia and England in prior group stage matches. The prank definitely had a funny side to it, confusing commentators all around the world. Sadly the team crashed out of the tournament two matches later, leaving them to make their way home looking a little bit silly. Will the real Slim Shady please stand up!
The birth of the 'Cruyff turn'  (1974)
The Dutch legend Johan Cruyff became well known for his trademark 'Cruyff turn' throughout his career, a technique that so many other players have tried to replicate on the pitch since. It was the 1974 Netherlands Vs. Sweden match where this iconic move was born – a look to pass, that is then dragged back behind his own standing leg, ready to turn and run on to.
The Lows
Zidane's headbutt (2006)
In a heated moment during the 2006 France vs. Italy final, Zidane lost his composure at the very worst moment, leading to him being issued a red card and sitting out of the crucial final 10 minutes of play. It's thought that during extra time, words were exchanged between Materazzi and the French player, which quickly escalated and led to Zidane responding with a rather forceful headbutt to the chest. As it happens, this was Zidane's final ever international match, ending a highly impressive career on a somewhat sour note.
Suarez bites Chiellini (2014)
If you're not old enough to remember some of the other moments, perhaps this one will ring a bell – the biting incident of 2014. Uruguayan striker Luis Suarez already had a reputation for biting opponents when he entered the World Cup that year, having given a PSV Eindhoven player an almighty nip while playing for Ajax and a Chelsea player a nibble when playing for Liverpool (our Liverpool stadium tour is a must for fans of LFC!). After two suspensions, this player should have learnt his lesson, but it would appear not. The striker struck again in a group stage match against Italy, sinking his teeth into Giorgio Chiellini which landed him another four month suspension. Doh!
The Hand of God (1986)
In the most controversial and momentous chain of events, Argentina went on to win the 1986 quarter-final against England at the hands (literally) of legendary player Diego Maradona, who simultaneously gained a reputation for being the greatest player and the biggest cheat. What is described as being the 'goal of the century' – a highly skilled and technical dribbling run of 60 yards – was overshadowed by a handball goal, achieved through a deliberate swipe of Maradona's fist to punch the ball past England goalie, Peter Shilton. He later stated that the goal was scored by "The hand of God".
Kuwait walk off in protest (1982)
Kuwait took a disagreement with the referee to a new level in a 1982 match against Spain, when a goal was scored in the time that Kuwait had stopped play, due to hearing a whistle blow. In protest, the entire team marched off the pitch and didn't return until the goal was written off. They went on to lose 4-1 anyway. Ouch.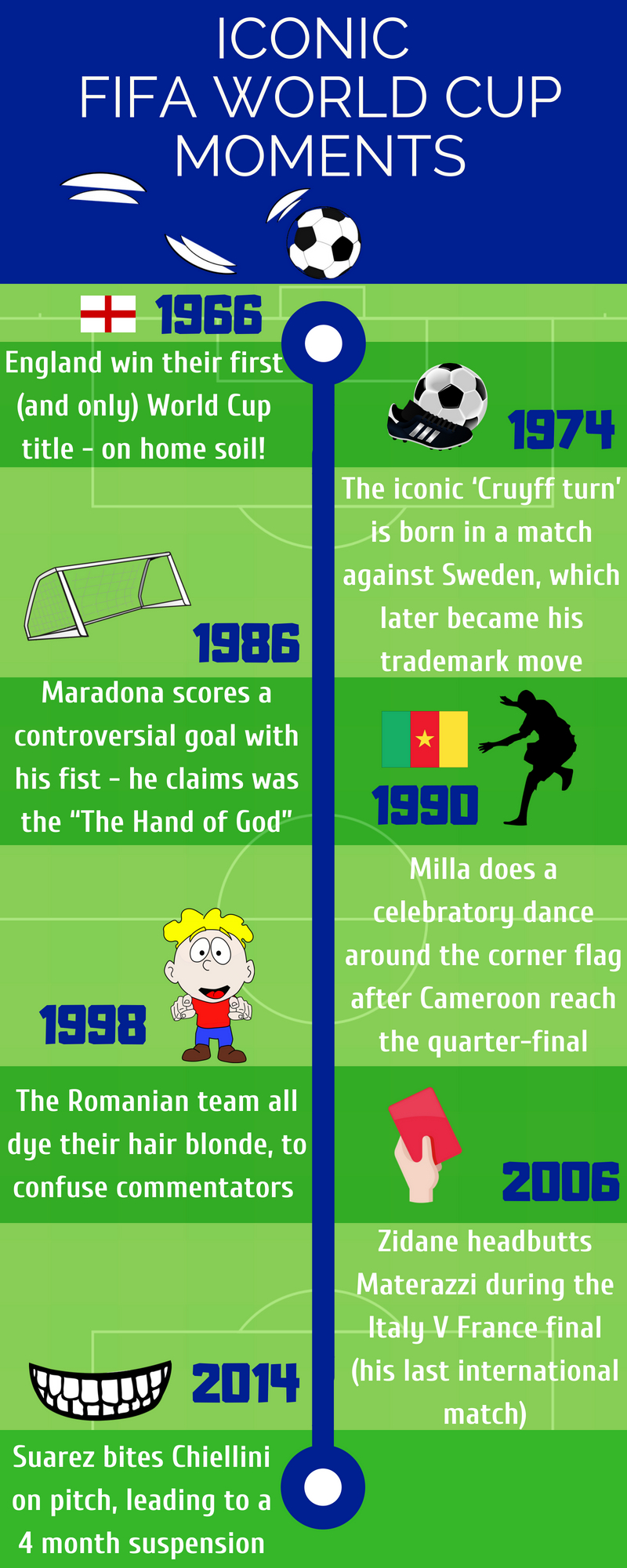 If you're a football fan or know somebody who is, be sure to check out our full collection of football experiences, including stadium tours, match day tickets and even zorb football!
Images: Adobe; Pixabay- Football, Football and foot, England flag, Cameroon flag, Dancing man, Blonde man, Teeth