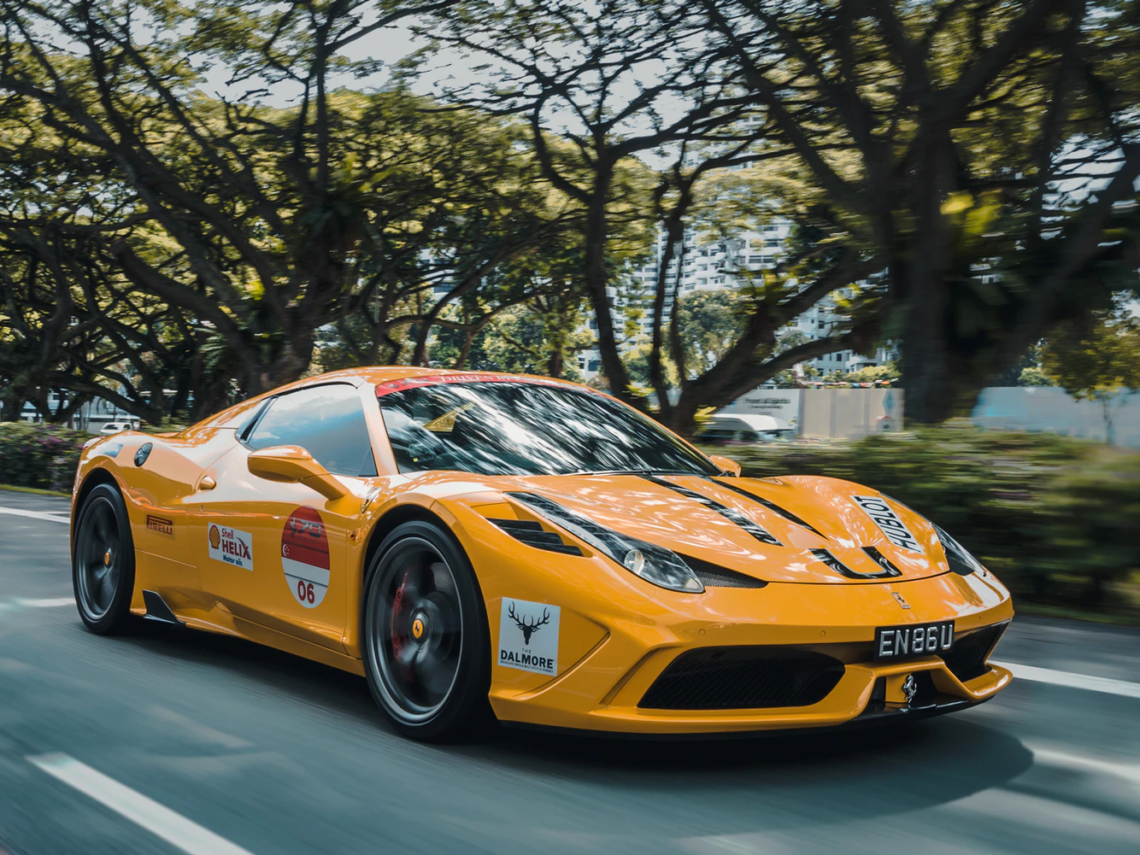 11 Best Driving Experiences and Track Days in the UK
With a slow year behind us, it's about time 2021 shifted into sixth gear.
Here, we've curated our winning list of top 11 best driving experiences and track days in the UK that will place you in pole position as gift-buyer of the century!
Why gift a driving experience?
When it comes to buying a unique gift, giving someone the chance to live like Lewis Hamilton for a day is definitely up there. Perfect for adrenaline junkies or as a Father's Day treat, we've put together some of the best driving experiences the UK has to offer. From luxury cars to tanks, F1 tracks to go-kart circuits, say goodbye to bland birthday trinkets and hello to an exhilarating ride of a lifetime.
Best supercar driving experiences
Available across over 60 locations in the UK, this experience is the ideal opportunity to get behind the wheel of some of the most highly sought after supercars. With Ferraris, Lamborghinis and Aston Martins all up for grabs, you'll have to narrow your choices down to your two best ride or dies before hitting the road for three exhilarating miles in each car. Strap in and get ready to go full throttle with this ultimate supercar driving blast for one.
 Triple Supercar Driving Blast with High Speed Passenger Ride
If you're struggling to narrow down your choice of supercar to just two, try this experience on for size. Enjoy three miles in each of your three chosen supercars whether it's an Audi R8, Porsche 911 or powerful Ferrari, before topping off an unforgettable day with a high-speed passenger ride with a professional driver.
Four Supercar Driving Blast with High Speed Passenger Ride
Up the ante even more with the choice of four (yes four!) supercars at your fingertips with this driving experience. Clock up 12 unbeatable miles in your chosen supercars, with three thrilling miles in each, before a qualified instructor tests out your heart rate in a high-speed passenger ride to make your experience one to remember.
Ultimate Perfect for Petrol Heads Gift Voucher
Do you have a motorsport mad friend or family member's birthday coming up but not sure where to start with their gift? We've got you covered with our amazing Petrol Heads Gift Voucher. The perfect experience for any car fanatic, this unique voucher will unlock some of the best driving experiences for the lucky recipient. From Lamborghinis to Ferraris, tanks to supercars and racetracks to off-road courses, you can rest assured that you've gifted one of the best driving experiences in the UK.
Browse all of our incredible supercar driving experiences.
Best track days in the UK
Ferrari Experience at Silverstone
Where better to test your driving prowess than at the home of British Motor Racing? After an instructor driven demo lap, get behind the iconic Ferrari F430 and channel your inner Niki Lauda as you race around Silverstone for a total of 15 miles, made up of two lots of four laps (you'll need the break in between to catch your breath!) With the ability to go from 0 to 100 mph in less than nine seconds, the powerful Ferrari F430 will definitely satisfy your need for speed and make this driving experience one for the memory books.
Triple Supercar Blast at Brands Hatch
The Ferrari California, Porsche 911, Audi R8 and Lamborghini Gallardo make up just some of the many impressive supercars you'll be able to choose from on this driving experience. Once you've settled on your top three supercars, you'll be in the driving seat as you zoom around the celebrated Brands Hatch track in Kent for three miles in each car. Perfect for if you need an outlet for your inner motorhead!
Aston Martin Experience at Silverstone
If you fancy yourself as a bit of a James Bond, this experience is the one for you. You'll get up close and personal with the renowned Silverstone track during a professionally driven lap, before getting the keys to the iconic Aston Martin V8 Vantage. Then over two sets of four laps, you'll have 15 unforgettable miles to put your driving skills to the test in this 4.7 litre, 420 bhp beauty of British engineering. Did someone say licence to thrill?
F4 Single Seater Driving Experience at Brands Hatch for One
Nothing screams adrenaline fuelled and exhilarating quite like this driving experience at Brands Hatch. First up is 15 thrilling minutes in the high-performing and sophisticated BMW M4. Then you'll be marvelling at the wondrous engineering of the F4 single seater as you enjoy its immense power and seamless gear changes for another incredible 15-minute drive. Once you've proven your capabilities behind the wheel, it'll be time to strap in for a high-speed passenger ride in the BMW M4 which will be sure to get your heart pumping!
Check out our full selection of unforgettable race track gifts.
Quirky driving experiences
Tank, Army Truck and Fire Engine Driving
It's not every day that you get to drive a tank is it? Or an army truck? Or a fire engine? Now how about driving all three in one day? Well that's exactly what's in store on this unique driving experience in Oxfordshire.
Feel the power of either a 1960s FV432 or a 1980s CVRT Spartan tank before you take command of a DAF military truck and top the day off with a spin in a Dennis RS V8 fire engine. Perfect for those looking for something a little more off the beaten track, this driving experience is sure to be unforgettable.
50-Lap Indoor Karting Race for Two
It's time to let your competitive side run free in this indoor go-karting experience for two. Don all the racing gear and buckle up for 50 laps of a specially designed circuit that will be bound to get your heart racing. The rules are simple – first to 50 wins and the three best timed drivers will receive a trophy as they take their place on the podium. On your marks, get set, go!
Triple Mustang Blast Driving Experience
Get behind the wheel of the iconic Mustang in this rip-roaring driving experience. Made famous in the movies and making cameos in the Fast and Furious franchise and James Bond's Goldfinger, the Mustang is bound to make you feel like a movie star! Select three Mustangs of your choice out of the 1965 GT350 Mustang Race Car, Shelby Mustang GT500 'Eleanor', 'Speed' Mustang and the Roush Mustang GT V8 and enjoy an unforgettable three-mile ride in each of your chosen beasts!
So, what are you stalling for? Browse all of our driving experiences and put the pedal to the metal! Or are you looking for something a little different? Check out all of our gifts for him to find the perfect present – you won't be disappointed.