Luxury Chocolate Making at MyChocolate
Two lucky staff from Red Letter Days headed to MyChocolate's London studio for an evening of luxury chocolate making, truffle tasting and Prosecco drinking recently (read about a previous but perfect chocolate night in too). We'd recommend it as the ideal workshop for chocolate fanatics, anyone in want of a relaxing and fun workshop to do with friends, a partner or as an ideal indulgent treat for Mother's Day.
Ciana takes up the story "Located in Hackney, East London, MyChocolate is a 15 minute walk from Highbury and Islington Underground station or 10 minutes from Old Street. We headed there on Friday night after work and kickstarted the fun experience with a glass of Prosecco each on arrival. There were three sets of tables (10 people per table) and we sat down with our drinks for an introduction to the session, with the sweet aroma of chocolate helping to set the scene.
The first chocolate creations were chocolate martinis. which we created in small groups by blending a martini concoction which included chocolate liqueur and chocolate ganache, for an indulgent but delicious chocolate drink. We decorated the glasses with melted chocolate and then poured the delicious chocolate martinis in – shaken, not stirred!
Master chocolatiers then gave the group a brief history of chocolate. We learned all sorts of things, such as the Aztecs believed that cacao seeds were a gift from the god of wisdom and were so valuable, they were used as a form of currency. Chocolate was first consumed as a bitter drink and it was only after its 18th century arrival in Europe, that Joseph Fry from Bristol discovered how to make chocolate mouldable (by reintroducing melted cacao butter). We tasted cocoa nibs and some of the chocolate made on-site including lemon and poppy seed flavoured white chocolate (my personal favourite), as well as a ginger, cinnamon and cardamom dark chocolate.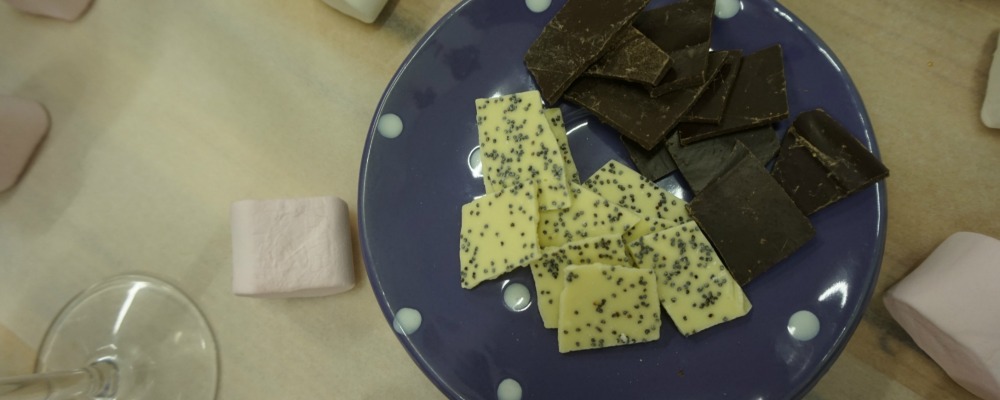 We then got creative and made chocolate slabs with guidance from the master chocolatier who demonstrated from the front of the class. We chose to make plum and orange flavoured chocolates which we had to solidify before breaking slabs into pieces at the end of the session.
We moved on to making delicious, indulgent and rich chocolate truffles which we were free to decorate however we wanted. There were various toppings to work with including sea salt, desiccated coconut, ginger, caramelised nuts and more. We were left to get creative and encouraged to have fun, knowing there was no right or wrong way to make or decorate the chocolate made the whole session foolproof! The chocolate truffles mixed fresh cream and melted chocolate together to create a ganache centre. We then piped them for rolling and coating in cocoa before dipping them in milk or dark chocolate ready to be decorated! We also cut and decorated fudge then boxed it up in gold foil boxes with cellophane. It was fantastic messy fun, thank goodness for the aprons!
We ended the session by sampling two different wines and reflected how each accompanied different types of chocolate – a muscat with a sweet chocolate and port which went deliciously with dark chocolate. The whole experience was interesting and a great way to end our working week. Would we go again? You bet!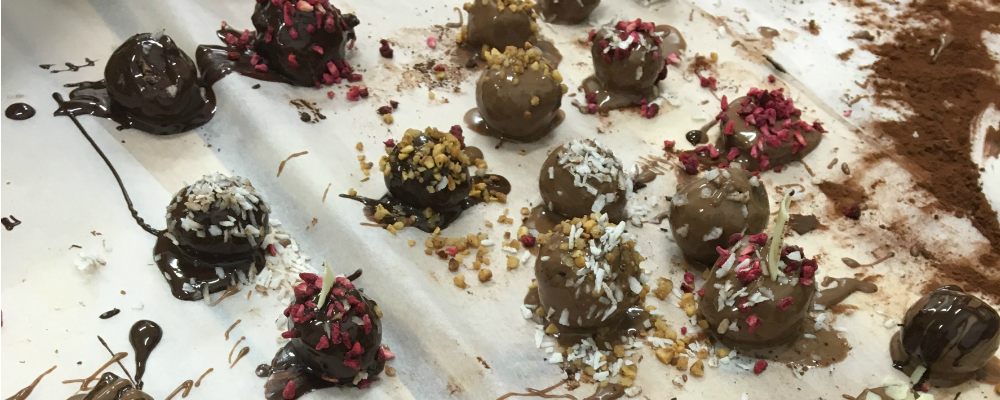 The My Chocolate chocolate making class is a foolproof and fun way to spend an evening getting creative and sampling delicious treats! The experience is the perfect Mother's Day treat for mum,equally as fun for a couple or for friends looking for a fun and different way to spend an evening!